The Lancaster Parking Authority operates, maintains and manages 946 meters located throughout the City but primarily within the Downtown Investment District. All of the meters are electronic.
Rate:
All of the meters require $.25 cents for 6 minutes.  Meters have a two-hour time limit per City ordinance.. If you plan on parking over two hours, you should park in an LPA garage.
Operating Hours:
The meters are in effect from 8:00 AM until 6:00 PM, Monday through Saturday. All meters have a 2-hour limit. The area in which meters are enforced on Saturdays can be found below: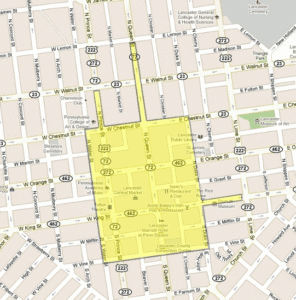 .
Payments Accepted:
The ParkMobile app can be used to pay for parking at both on-street meters and kiosks. Download the ParkMobile app on the App Store or Google Play. The ParkMobile app allows you to pay on your phone, receive updates when your parking is about to expire, and add time to your parking meter.
Single space meters accept quarters, dimes and nickels and will register the appropriate proportion of time. For the multi-space kiosk meters, one and five dollar bills, 1 dollar coins, quarters, dimes, nickels as well as credit cards are accepted.   Credit card transactions charge a minimum of $2.50 for 1 hours of parking.
Parking Tickets:
The Lancaster Parking Authority enforces and manages the city's parking ordinances. Parking tickets can be written by the Lancaster Parking Authority enforcement officers or Lancaster Police meter enforcement aides. All parking tickets — written by both LPA enforcement officers and police meter enforcement aides — are paid at the LPA office located at 30 W. Orange St. Lancaster, PA 17603, or online here.
Booting/Towing:
Off-street Booting & towing of cars in the garages and lots is handled by the Lancaster Parking Authority. On Street Booting & towing is handled by the City of Lancaster Police Department. If your car is booted or towed, call the Parking Authority at (717) 299-0907. You will be charged to remove a boot or for towing.